On 25 January 2022, EACN clusters met online for the 2022 General Assembly.
This was the moment to look back on one exceptional year for the automotive industry as well as for clusters: The sanitary pandemic continues impacting the whole sector, with remaining sanitary measures as well follow-up impacts such as component and raw material shortages, increasing energy prices, but also, as it seems, changing behaviours of customers. The clusters of European Automotive Cluster Network EACN accompany their members in this difficult period. Exchanges and discussions, collaboration, and joint actions on European level are key to better support and source of new ideas.
During the General Assembly, Elena Lluch, Cluster Manager at AVIA Cluster de Automoción de la Comunitat Valenciana/Spain, and Libor Dobeš, Cluster Manager at Moravskoslezský automobilový klastr/Czech Republic, have been elected new Executive Board Meeting. They join the team in place.
In 2021 communication actions have been set up and improved: a new and modern logo, the website, a LinkedIn profile, a newsletter…, and a first service providing information about disruptions in OEM plants across Europe has been launched for EACN clusters' members. Several EACN clusters also cooperated in four project proposals and applied, with additional partners, for European co-funding.
The 2022 will focus on new added value services particularly for EACN clusters' member companies and other stakeholders.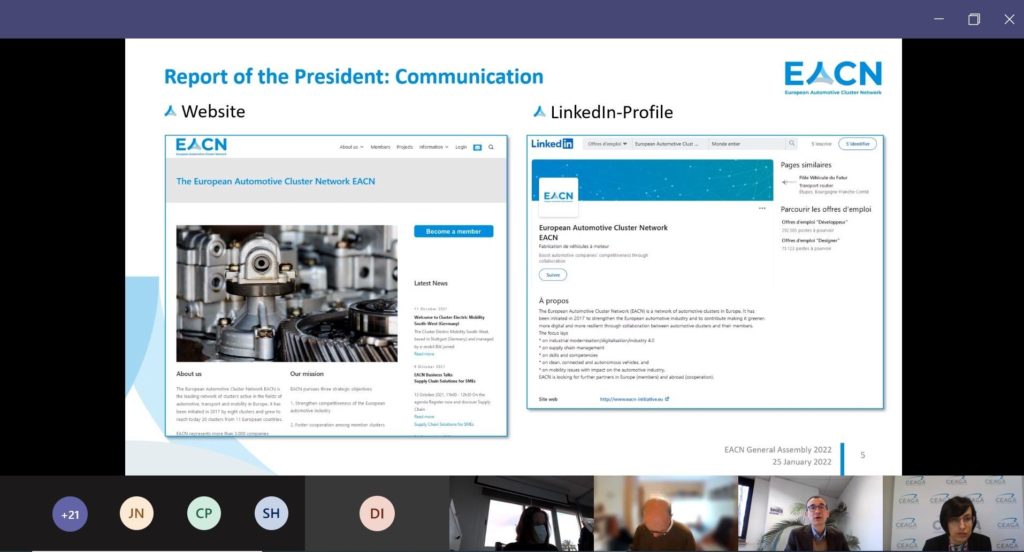 About EACN
EACN is the leading European network of clusters focusing on automotive and mobility. In early 2022, EACN brings together 23 clusters of which six clusters joined in 2021. EACN clusters aim at supporting their members as well as the European automotive industry through active and high quality cooperation.
Contact: Thomas Röhr, Secretary General