Congratulations to Bruno Grandjean, General Manager of Pôle Véhicule du Futur (France). He has been confirmed as EACN President for the nest two years during the extraordinary EACN Executive Board Meeting of 14 February 2023.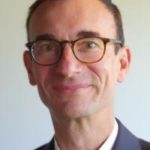 Bruno has nearly 20 years of experience as programme director and, since 2019, as General Manager of the French cluster Pôle Véhicule du Futur.
He leads EACN since its creation in early 2020 and contributed to its development over the past two years. EACN now totals 25 members from 13 European countries. EACN members collaborate and create synergies to strengthen their own work and the competitiveness of the European automotive industry.